Body Wavy Hair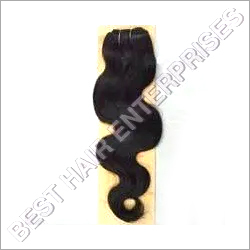 Body Wavy Hair
Product Description
Backed by our immense experience and knowledge, we are engaged in manufacturing and exporting finest quality Body Wavy Hair. This hair is processed under the the strict supervision of our diligent and skilled hair professionals using natural quality human hair that is sourced from certified vendors of the market. To meet the international quality standards, this hair is duly checked on various set parameters to ensure tangle free nature. Body Wavy Hair is made available at affordable prices.
Features of Body Wavy Hair:
Eye appealing look
Lice free
Excellent strand strength
Skin-friendliness
Q: What is Body Wavy Hair?
A: Body Wavy Hair describes a hair type that is somewhere between straight and wavy. It has loose waves that give the hair volume and dimension while adding a natural and carefree beauty.
Q: How is Body Wavy Hair different from other hair textures?
A: Body Wavy Hair has subtle waves all across the length of the hair, whereas straight hair is entirely flat. Body wavy hair varies from curly hair in that the waves are not as well defined or firmly coiled.
Q: Can I achieve Body Wavy Hair if my natural hair is straight or curly?
A: Absolutely, regardless whether your natural hair is straight or curly, you can obtain body wavy hair. To achieve loose waves, you can use heat styling products like curling irons or straighteners, or you can choose short-term styling solutions like braiding or applying sea salt sprays.
Q: How do I care for and maintain Body Wavy Hair?
A: Use sulfate-free shampoos and conditioners to take care of and preserve body wavy hair in order to prevent hair drying out. To prevent damage, gently untangle the waves with a wide-tooth comb while avoiding overheating the style. With curl-enhancing products, the waves can be enhanced.
Q: Can I straighten or curl Body Wavy Hair for different looks?
A: It is possible to straighten body wavy hair for a sleek appearance or to further curl it for more defined curls. Different styles can be achieved with the help of heat styling equipment, but using heat protectant products is crucial to avoiding damage.