Wavy Frontals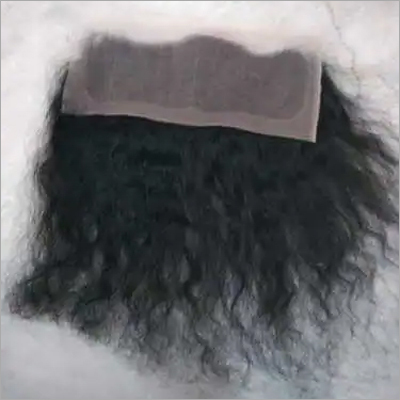 Wavy Frontals
Price And Quantity
Product Specifications
Product Description
We offer our clients Wavy Frontals that provide thick, long and healthy look to the natural hairs. They are prepared carefully by sorting hairs to give required length as well as luster. These frontals are made using 100% human hair sourced from reliable market vendors. Use for making high quality wigs, wefts and extensions, our hair is washed by using natural shampoo and herbs. The offered hairs are highly admired due to their zero shedding, natural patterns as well as easily get attached. Offered hairs are checked on numerous quality parameters by our professionals to ensure that texture remain intact. Wavy Frontals can be availed in different lengths at market leading prices.
FAQs of Wavy Frontals
Q: What are Wavy Frontals?
A: Hairpieces or hair extensions called "Wavy Frontals" are made to cover the entire front hairline, from ear to ear. A smooth integration with your natural hair and a natural-looking frontal appearance are made possible by the use of wavy or softly curled hair textures in their construction.
Q: How are Wavy Frontals different from regular frontals?
A: The wavy or mildly curled hair structure of wavy frontals makes them different from conventional frontals. Straight hair textures are typical of regular frontals. Wavy Frontals give the hairline volume and character while offering a distinctive and adaptable style.
Q: How are Wavy Frontals installed?
A: Sewing, gluing, or using clips are just a few of the methods that can be used to install wavy fronts. The installation technique may vary based on individual taste and a hairstylist's skill. For the finest effects, it is crucial to have a professional install the frontal.
Q: Can Wavy Frontals be customized or styled further?
A: Yes, Wavy Frontals can be further styled and modified. To get the tint you want, you can dye or color them. In order to create various wavy or curly appearances, they can also be groomed using heat tools like curling irons or straighteners.
Q: How do I care for and maintain Wavy Frontals?
A: Use sulfate-free shampoos and conditioners to take care of Wavy Frontals in order to avoid hair drying out and preserve the wave pattern. Gently untangle the frontal by working your way up from the tips. To extend the frontal's longevity, avoid using too much heat during styling.